COLUMBUS – The mother of a young girl who was assaulted in April, leaving her unresponsive with a traumatic brain injury, has said her child's condition is permanent.
However, the family remains hopeful that through prayer and medicine they'll see the bright young girl's personality shine through her injury.
Calliope May, 2, was found unresponsive at Foothills Apartments in Wurtland on April 27, according to the Raceland Police Department in a press release. Authorities said May had been shaken aggressively and had to be transported to Our Lady of Bellefonte Hospital and later airlifted to the Cabell Huntington Hospital where she remained in the Pediatric Intensive Care Unit listed in critical condition for weeks. May was then transported to Nationwide Children's Hospital and diagnosed with a traumatic brain injury where she currently remains.
Bobby Lee Brantley, 32, faces the charge of first-degree assault in Greenup County Circuit Court. Authorities contend he critically injured May.
Brantley was originally charged with first degree criminal abuse of a child but after presentation to the Greenup County Grand Jury, the charge was amended.
May's mother, Linda Katherine Pemberton, said that though her daughter's condition has improved in some ways, she remains in critical condition and doctors have said the TBI is permanent.
"We're hoping and praying with time and God's will that she will be more than this one day," Pemberton said. "We just miss the brilliant, selfless, funny, charismatic little girl we had before, but we will love her unconditionally no matter what the long term outcome is."
Pemberton said she is hoping her daughter will be released in time for her third birthday on August 29th.
"We're hoping to be home next week," Pemberton said. "They've said that for weeks but this time it's looking more certain."
Pemberton said once her daughter is released she will require around the clock constant care.
"I just miss her sweet voice, her smile, snuggles, her love," Pemberton said.
Pemberton said that the TBI has significantly impacted her daughter.
"She went from full sentences, large vocabulary, brilliant, funny and sassy to non-verbal," Pemberton said. "She is unable to hold her head up, sit up, walk or do purposeful movements. She has cortical vision loss in her left eye and some of her right and is unable to look anywhere but to the right and straight. Her eyes won't look left. So it's impacted her in every way."
Pemberton said that doctor's have said that her daughter cannot hear but she disagrees.
"They've tried to tell me she can't hear but she's proven to those close to her otherwise," Pemberton said. "She uses blinking as her form of communication to us. She's began to blow kisses lately slightly and semi-consistently actually making a lip smacking sound. But when you look into her eyes, you can still see her light, you can see she mentally in there, but the physical damage cortically is profound."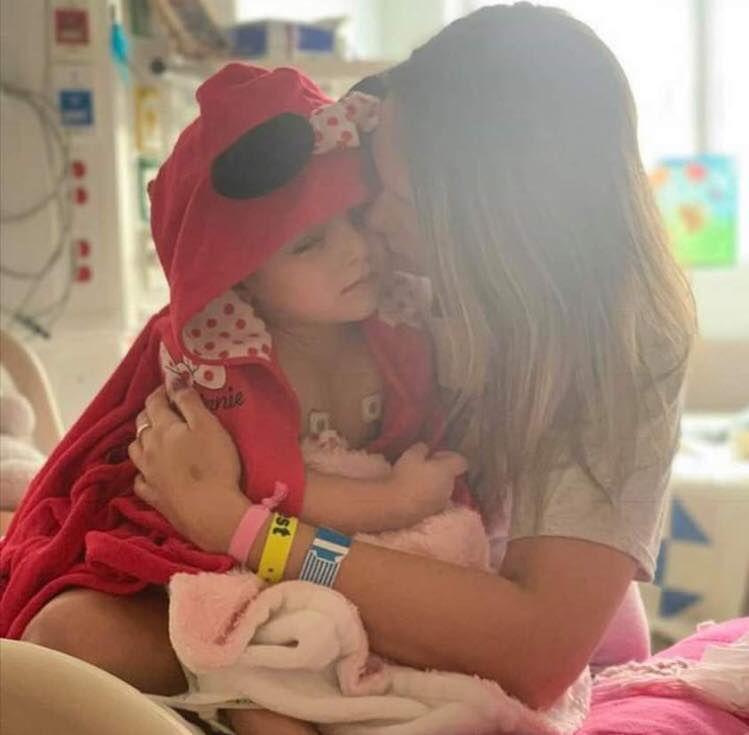 Pemberton said that the love and support behind her daughter has been huge.
"So many people come pray, hold her, and stretch her," Pemberton said. "She's had three of our very favorite and most loving nurses from Cabell PICU to come visit her."
Pemberton said that despite everything, she remains hopeful for her daughter's future.
"She's almost 3, she's stretchy and her brain's plasticity is astounding because her age," Pemberton said. "So time and rest, with therapy and stimulation is going to be key is moving forward and progress."
Those wishing to follow May's progress can do so on Facebook under the search "Callie's Story".