FLAT GAP A Johnson County teenager drowned early Friday morning at Paintsville Lake.
The body of Luke Caudill, a 15-year-old freshman at Johnson Central High School, was found at 8:45 a.m. Caudill was pronounced dead by the Johnson County Coroner's Office.
Caudill, a resident of Staffordsville, was with a group of friends when he slipped into the lake between 3 a.m. and 4 a.m. after walking along the edge of the water, according to Kentucky State Police Post 9 in Pikeville.
Police were dispatched to Paintsville Lake at 4:01 a.m. after receiving a request for assistance by the Johnson County Sheriff's Department.
The Floyd County Rescue Squad found Caudill unresponsive near the Spice Lick area of the lake, one of the popular diving and swimming locations frequented by local teenagers and tourists.
Johnson County schools were on spring break this week. Classmates and friends of Caudill, who was a member of the Johnson Central football team, paid respect to the boy's family through social media.
Our hearts are broken for the football family of Johnson Central. They tragically lost a friend and a teammate this morning.

— EKY Sports Central (@EastKYSC) April 8, 2016
Johnson Central High School Principal Russell Halsey reached out to students through Facebook, and asked faculty and students to "lean on each other."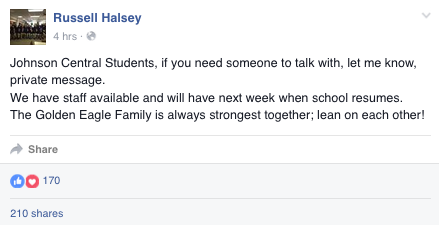 Foul play is not suspected after an initial investigation by the Kentucky State Police. KSP Trooper Jordan Grevious will continue to investigate the incident.
(606) 326-2651 |