FRANKFORT A "Stand Fast Kim" banner attached to a plane rippled across the sky above thousands of roaring religious freedom advocates at the state Capitol. 
"I just, I love each and every one of you," Rowan County Clerk Kim Davis told the crowd as tears filled her eyes at a religious freedom rally Saturday. "Just continue to stand firm in what we believe. God is alive and He is on the throne."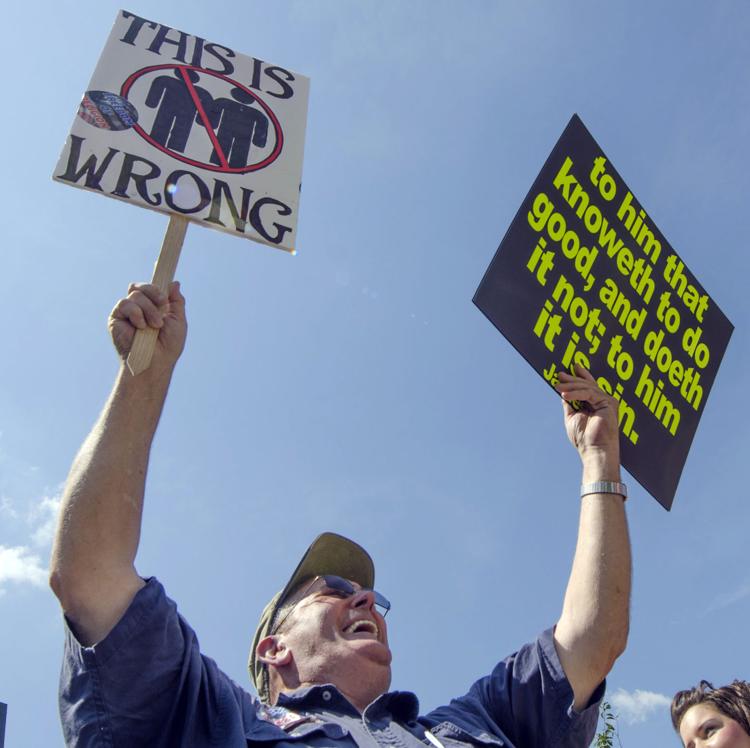 The embattled clerk has refused to issue marriage licenses since June, when the U.S. Supreme Court ruled states must allow same-sex marriage. Davis believes her religious convictions justify her refusal to issue the licenses.
Most of the people who swarmed the Kentucky Capitol on Saturday agree.
Supporters waved flags and signs condemning same-sex marriage. An illustrated poster with the words "first the baker, then the clerk, next the pastors" was plastered to a Capitol wall. Churchgoers, young and old, shouted "amen" after politicians and preachers spoke about religious freedom and the First Amendment.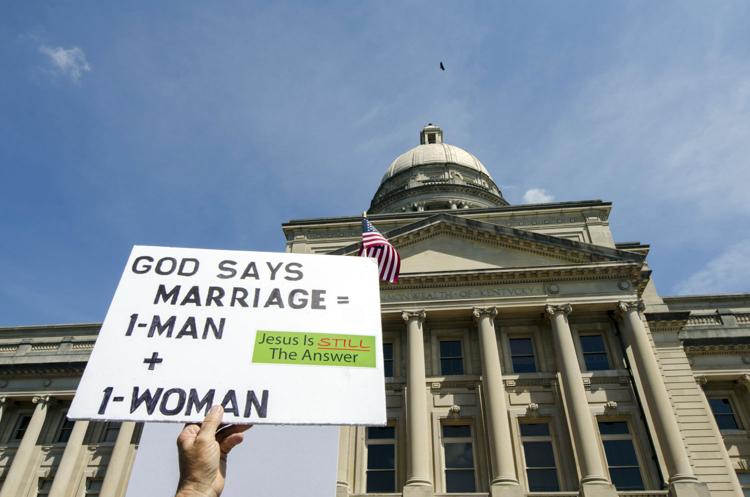 Republican gubernatorial candidate Matt Bevin, who said the state should stop issue marriage licenses on July 10, told the crowd their "religious liberties are being oppressed."
The Family Foundation of Kentucky orchestrated the rally. Church groups and other religious organizations from across Kentucky and beyond arrived on commercial buses. Bronda Galbraith and other members of the Pryorsburg Baptist Church in Mayfield sat near the front of the stage.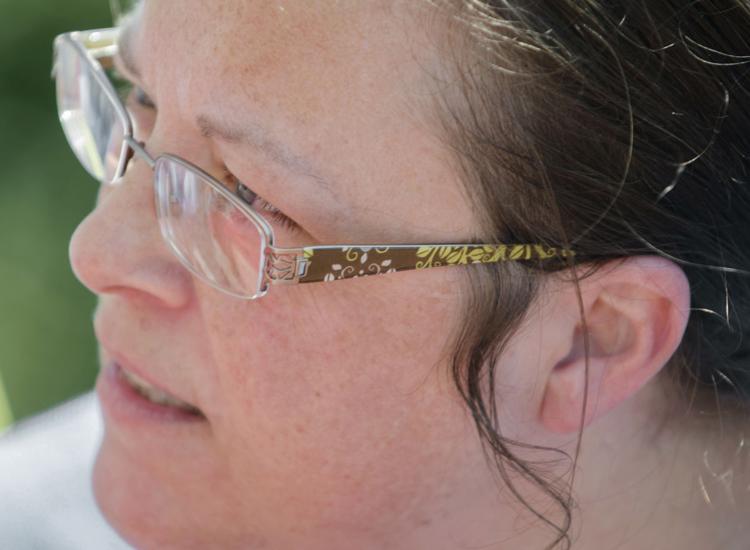 "No one can override God's policy," said Galbraith. "I think we're supposed to obey the laws of the land, unless they override God's laws. "If you don't know God's laws, read the Bible."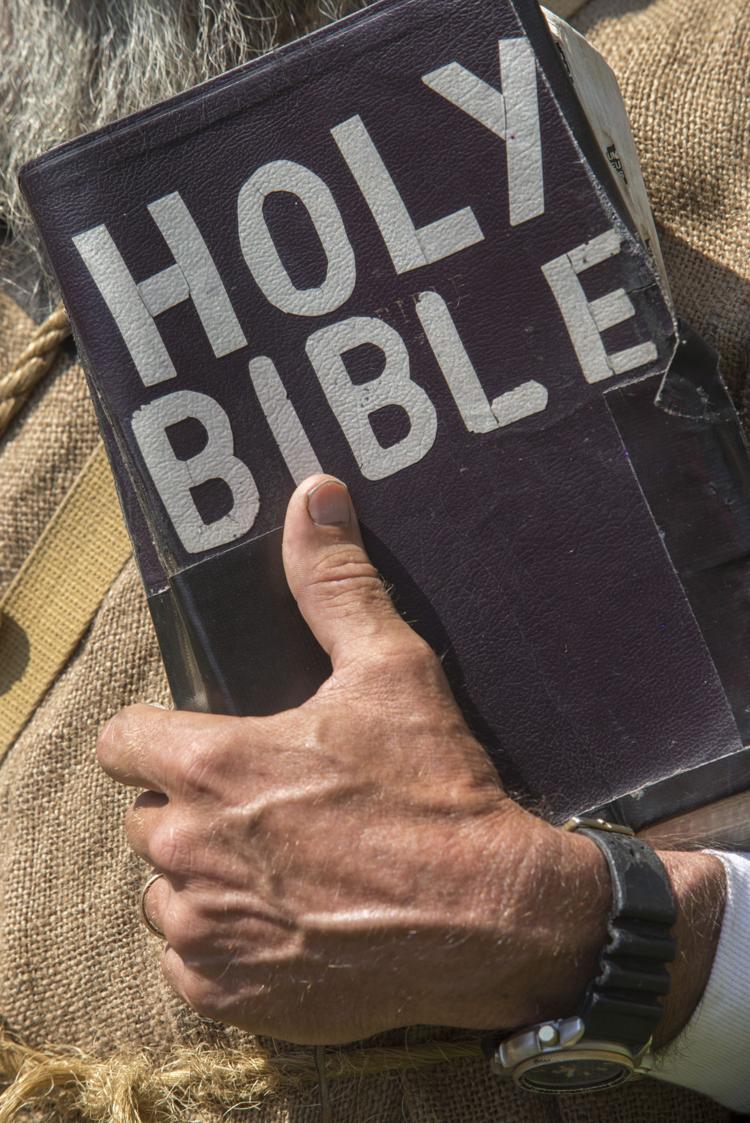 Larry Austin, 74, sat next to his wife Dorothy in a lawn chair in the back of the crowd. He gripped a sign that outlined a portion of Article I of the Constitution. "I'm a senior citizen that's tired of sitting on the fence and letting things happen that I disagree with," said Austin, who lives in Shelby County.
Young supporters also voiced their belief in religious freedom.
"In our Kentucky Constitution … the Kentucky Marriage Amendment says that marriage is between a man and a woman," said Family Foundation Policy Analyst Ron Howard, 24. "I wholeheartedly stand behind Kim Davis."
Some ministers prayed on stage. One preacher cloaked in a burlap gown and strapped with a bible and a ram's horn delivered short sermons in the field.
"We must pray for the USA," said Alan Hoyle, a street preacher from Lincoln County, North Carolina. "The Lord spoke to me. I asked, father, what's going on?"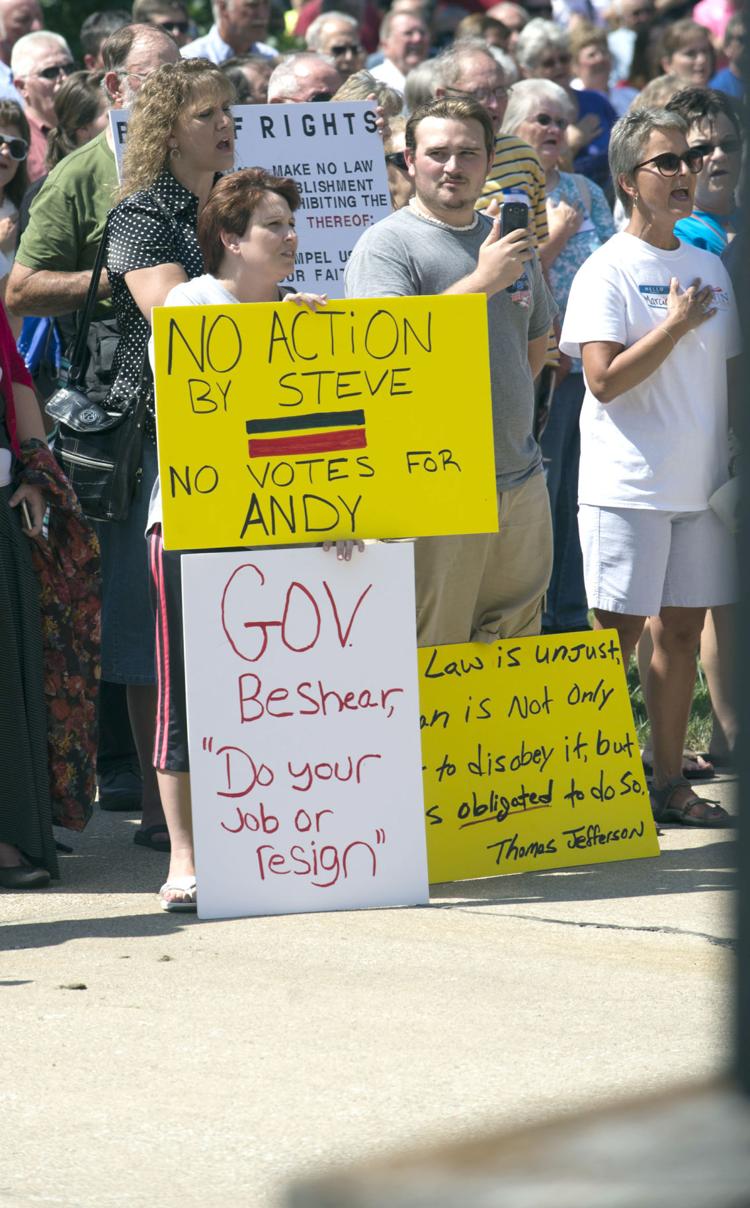 Meanwhile across town, a celebration of the two-year-old Frankfort Fairness Ordinance was held in a more relaxed environment at the Ward Oates Amphitheater.
"[Supporters of Kim Davis] want to find a loophole in the Kentucky Constitution," said David Fields, who married his partner Nikolai Pennington in Frankfort on July 17. "What they're not realizing, when the Supreme Court handed down their decision, it became a federal law."
Two other county clerks, Casey Davis of Casey County and Kay Schwartz of Whitley County, received a raucous ovation when they spoke at the rally. Both clerks are opposed to same-sex marriage.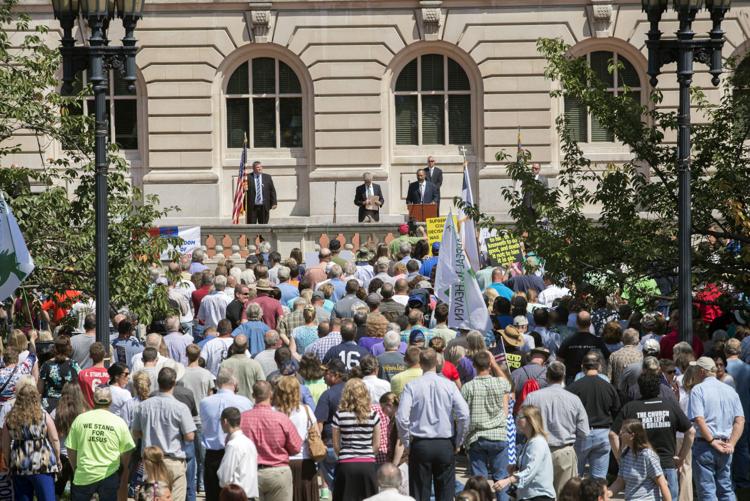 Four couples in Rowan County represented by the American Civil Liberties Union are involved in a lawsuit against Kim Davis.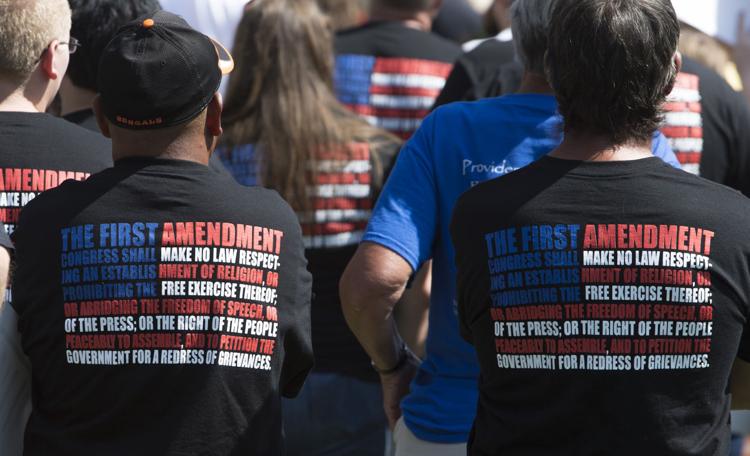 U.S. District Judge David L. Bunning ordered Davis to issue marriage licenses on Aug. 12, but granted a stay on Aug. 17. Davis is appealing Bunning's decision to the 6th Circuit U.S. Court of Appeals.
Bunning designated Aug. 31 as the deadline for his decision.