ASHLAND Count West Carter High School golf coach Chuck Clark among the American Junior Golf Association's most ardent fans.
With sparse athletic allowances the norm for area high school golf teams, West Carter and many others have relied heavily on a grant through the AJGA to put together a quality schedule and cover other expenses. Entry fee for a tournament typically runs $300.
"We're in Olive Hill," Clark said. "People can't afford to pay $300. If it wasn't for this, we wouldn't be competing. We've sent kids to play college golf seven of the last nine years."
Clark said West Carter's boys and girls teams each received $1,700 last year for their part assisting in various capacities at the annual Natural Resource Partners Bluegrass Junior presented by BrickStreet Insurance.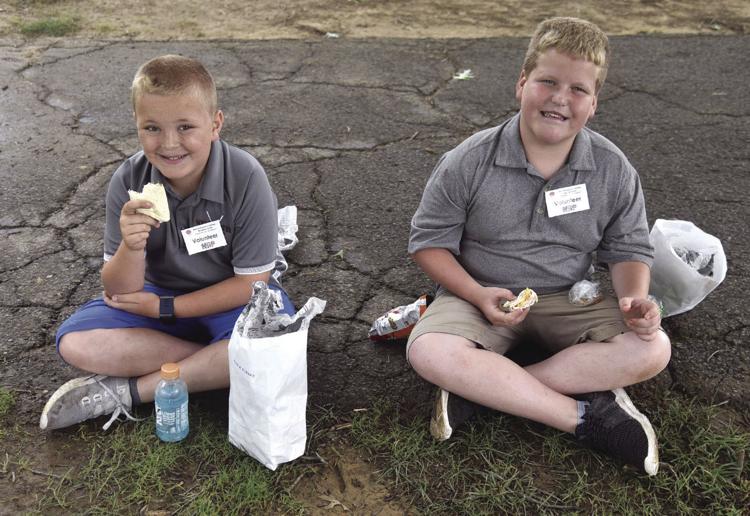 Charles and several of his players worked as spotters on the Bellefonte Country Club course during Monday's 18-hole qualifier. The tournament, now in its 36th year at Bellefonte, gets under way today with a 144-player field of age 12-19 golfers from 26 states and outside the U.S.
Fees from Tuesday's annual Junior-Am fundraising tournament — which pairs sponsors with junior golfers — benefit local golf programs as well as the AJGA's ACE Grant Foundation and the Bob Yancey Scholarship Foundation.
Over the past decade, NRP Bluegrass Junior-AMs have raised more than $400,000.
Tournament Co-Chairman Barbara Conley coordinates volunteers for the AJGA's longest-running tournament. As Bluegrass Junior's volunteer base continues to age, assistance from area high school teams has helped fill gaps.
"It's an excellent program," said Conley, who asks that each school supply a minimum of five volunteers — usually players and coaches, sometimes parents.
Other area high school teams — boys, girls or both — supplying help this week include Ashland, Greenup County, Russell, Boyd County, Raceland, Ironton and Elliott County.
"We play 11 of 12 tournaments a season and have to travel downstate," said Ashland girls coach Mark Hanni. "The money from the AJGA is really nice and important to us. We want to make sure we have as many girls out there participating as we can. We don't want to take that contribution for granted."
Clark has worked as a timer, spotter and scorekeeper.
"I just tell Barbara to put me wherever she needs me," he said.
Another element of involvement is called Care For the Course. It follows each round and mostly entails repairing divots on greens and fairways — the latter using sand.
"It's Ashland's responsibility this year," Conley said. "Russell did it last year."
Last year, West Carter's boys team advanced to its first state tournament. Also, Bre Boggs became the school's first girl to qualify for state.
Clark credits the Comets' success to being able to get out and compete as much as possible.
"It's unbelievable the impact of getting included in this AJGA grant has had," Clark said.
Rising West Carter junior Macie Inskeep has volunteered at the Bluegrass Junior for three years.
"Our teams are able to get money from doing this and that really helps us go to tournaments and get better," she said. "It doesn't put as much stress on us as far as fundraising."
Inskeep also enjoys the chance to watch — up close — the level of competition at AJGA events.
"Especially considering they are my age or younger than me," Inskeep said. "It's just crazy seeing them doing what they are doing, and what they are going to be doing in the future, I wish I could accomplish a little bit of what they can."
(606) 326-2671 |