ASHLAND — While Paul G. Blazer High School students knew Gov. Matt Bevin was stopping by on Wednesday, freshman Anistyn Conner was clueless she was the main reason for the visit.
Conner placed third in this year's Kentucky Derby Poster Contest hosted by Bevin and first lady Glenna Bevin, but was unable to attend a recent luncheon for the five finalists at the governor's mansion.
"I thought, 'You know what? There are five kids in the whole state, so we'll just go to her,'" Bevin said after surprising Conner in Jennifer Spade's art room.
Conner was one of 178 students in Kentucky to submit an entry. The first lady said Conner's drawing will be permanently displayed in the Capitol. She asked Conner to sign a copy of the drawing she brought. Conner also received a plaque for being a finalist.
The first lady said this was the first year students were asked to submit drawings for the contest. In years past, local artists designed posters.
"This is one of the ways that we're trying to empower kids," Mrs. Bevin said.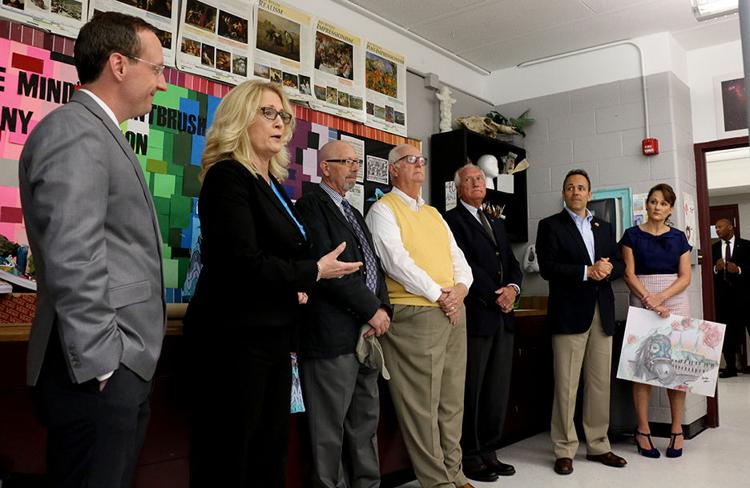 After the governor applauded Conner for her work, he took questions from the class. One student asked what he is doing to help the art departments of Kentucky schools.
Bevin explained as budgets become squeezed in local communities and schools, certain things "start to give," including arts and athletic programs. He said it is important to have people like administrators and principals who can acknowledge the importance of the activities.
"It ends up being a function of how you use the monies that do come to a state, to a district, to a school specifically, and then to specific departments as to how you use the resources you have," he said.
"And, so obviously try to be efficient, try to be effective, but clearly you're leveraging when there are not enough resources to do something pretty remarkable and turn out some very talented young students."
Bevin encouraged the students to continue pursuing the arts. He also asked them to inspire those even younger because "resources are limited," stating enthusiasm for art and creativity begins in thw schools.
After Bevin's classroom visit, Conner explained his trip to the school made up for her missing the Frankfort luncheon.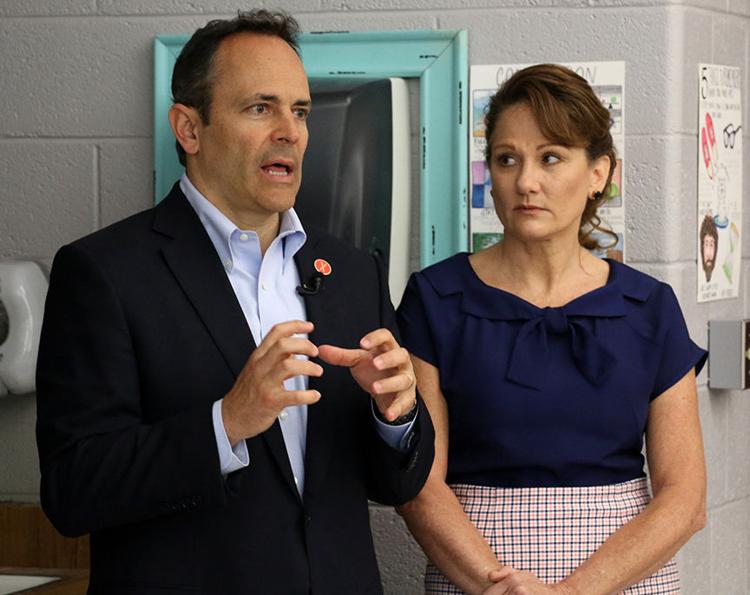 Spade also bragged on her student, referring to how big of an honor it is to have Bevin personally congratulate Conner at the school.
"I never dreamed that the governor would actually come here to deliver the award himself. It's quite impressive and I'm over the moon excited for her, and I'm proud that Ashland has a little blip on the radar with recognition. It's wonderful," Spade said.
After leaving Blazer, the governor's entourage traveled to rural Boyd County to meet with staff and students at the Ramey-Estep Homes, a residential treatment facility for at-risk teens. The guests toured a cottage, the dining hall and the high school, and spoke to officials and nearly every child and staff member.
What was supposed to be a brief visit to Pigeon Roost stretched into nearly three hours. REH officials said Bevin was interested in all aspects of the facility's care — residential, foster care and Re-group, the outpatient program based in Ashland. Bevin is a father of 10.
Jay Johnson, Ramey-Estep CEO, was pleased Bevin took the time to visit Wednesday.
"Ramey-Estep got a visit from Gov. Matt Bevin, the first lady, state Sen. Robin Webb (D-Grayson), and several members of the governor's staff," Johnson said.
"It was a real pleasure to show them our facility and talk about our treatment programs. We had the opportunity to talk about all of our programs.
"The governor clearly has a profound interest in helping programs like Ramey-Estep provide the best treatment possible to Kentucky's children. There is no doubt this is something that is very important to him," Johnson said.
Others in attendance at REH on Wednesday included Leif Clarke, vice president of the REH board of directors; some members of the Boyd County Board of Education; and REH attorneys Leigh Latherow and Kim McCann.
(606) 326-2653 |