MOREHEAD Kim Davis received death threats, went to jail for five nights and even questioned her religious mission, but a year later, she has no regrets.
"I had one little girl write me. She told me she had been in a dry, down place for a long time," said the Rowan County clerk, her voice cracking as she wept. "She told me she knew my story. She saw it on TV. She said she rededicated her life to the Lord because of me. This is when I knew; what God was using me for was of vital importance for our nation, not just Kentucky."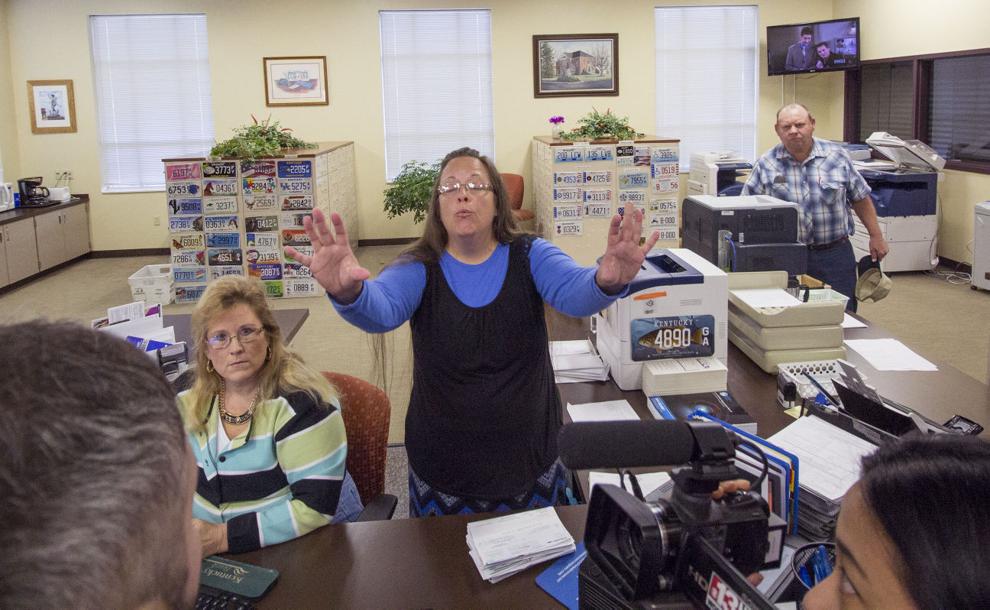 In the wake of last summer's Supreme Court ruling that legalized same-sex marriage, Davis said she faced a "heaven or hell" choice.
The clerk chose to prevent her office from issuing marriage licenses to all couples because of her religious convictions.
"You hear that old saying, that lip service is cheap," she said. "I had to ask myself, are you going to back your words up or let your actions speak louder?"
Lawsuits
Four couples filed a lawsuit as a result of Davis' refusal to comply with the Supreme Court judgement. A viral Youtube video posted by a gay Rowan County resident who joined the suit after he was denied a license collected millions of views and lured reporters from across Kentucky.
But Davis kept saying no.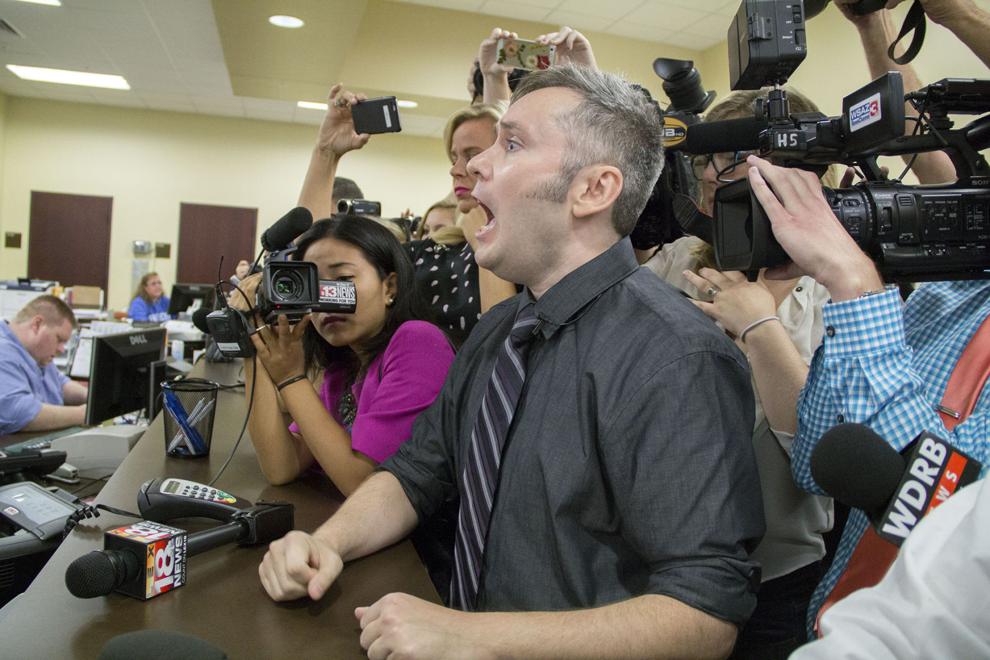 She remained steadfast in her refusal while inside her office, every workday, even as a small band of detractors formed outside the courthouse and chanted to her, "Do your job."
In early July of last year, former Gov. Steve Beshear issued a statement demanding all county clerks follow the federal law or resign from office. Davis spent most of the month in court, battling the lawsuit before filing her own against the governor.
A U.S. district judge ordered Davis to issue the licenses. Again, she refused. In late August, she delivered a speech in front of thousands of supporters and a handful of politicians at a "religious freedom" rally at the state Capitol.
In came the swarm.
National media and out-of-town protesters set up shop in an otherwise tranquil northeastern Kentucky county. Droves of "religious freedom" and equal rights advocates squared off to protest in the courthouse lawn.
A New York Times story unearthed Davis' marital history, revealing she'd been married four times. The revelation sparked debate across the country and called into question Davis' personal morality.
Davis said she heard the criticism.
"Why in the world would the Lord use me, with my past with marriage so terribly failed? It confounded those people who call me a bigot, a hypocrite," said Davis. "But it shows the power he (God) has to transform someone who made a house in a pit of sins. For him to pull me out of there with that loving hand of mercy — that's what I wanted people to see."
The controversy surrounding Davis had already catapulted to the top trending story in the country by Sept. 1, the last day her office denied marriage licenses. On that day, on live television, Davis looked into the eyes of same-sex couples and denied their pleas for a third and final time. 
Davis said she knew the ramifications of refusing the order of a federal judge.
"The night before we went back to court, Joe (Davis) was fixing us coffee. I said, hey babe, I need to talk to you about something," said Davis. "I need to know we're on the same page, because I'm probably going to jail tomorrow.' He said, 'I'm with you, 110 percent.'"
Jail time in Carter
Two days later, with the support of her family, Davis was found in contempt of court by a federal judge and lodged in the Carter County Detention Center.
"The time I spent in jail was a very peaceful time for me. The Lord knew I needed rest," said Davis. "I had time to read my Bible, sing praises and songs to him. I'm not a very good singer, but I sure did sing loud and proud for him."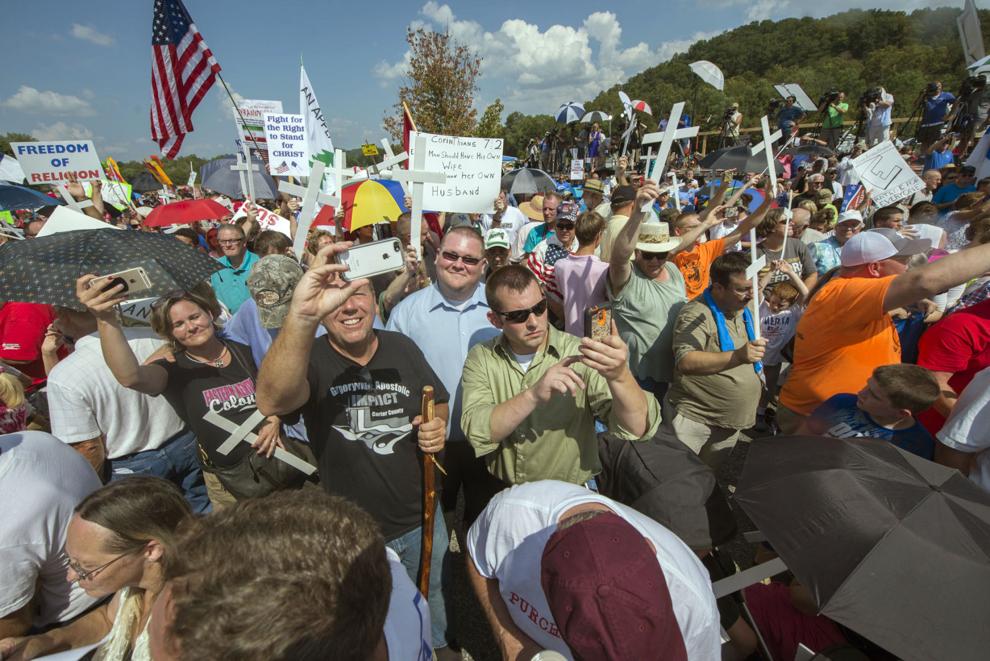 Deputy clerks in Rowan County resumed the issuance of marriage licenses to all couples a day after Davis was found in contempt.
A judge order Davis' release four days later. She emerged from jail and onto a stage erected outside, where she was met by 5,000 supporters and two former Republican presidential candidates.
"That was pretty overwhelming. They said, 'Well, Mike Huckabee wants to meet you.' Why does he want to meet me? I'm nobody," said Davis. "Then Ted Cruz came in, and I thought, well what in the world?"
Meeting the Pope
When Davis returned to work and didn't interfere with her staff's issuance of marriage licenses, the media mostly left town. It appeared Davis' time in the spotlight was waning.
Then, she met the Pope.
The meeting between Pope Francis and Davis took place in late September in Washington, D.C. Lawyers for Kim Davis, the Liberty Counsel, said it lasted 15 minutes.
"That blew my mind. I thought I was on candid camera," said Davis. "They said no, it's real. You have to keep this secret. God just worked it out perfectly."
Davis, an Apostolic Christian, said the Pope thanked her for her stand and asked she pray for him. The Pope also gave Davis a pair of rosaries, meant for her parents, who are both practicing Catholics.
"I hugged him. He put his hands up. I grasped them. And his hands were really soft, way softer than mine," said Davis.
In January, current Kentucky Gov. Matt Bevin — who was vocal in his support of Davis — assumed office. Davis had returned the favor by lending her voice in support of Bevin on the eve of the governor's upset election victory. In his first week, Bevin issued an executive order that removed the names of county clerks from marriage forms.
Nearing an end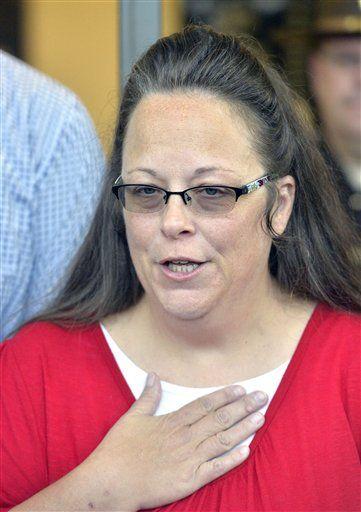 Last week, Davis requested a federal court dismiss her appeals, citing the new law. On Friday, legal counsel representing plaintiffs in a lawsuit against Davis formally said they wouldn't oppose the dismissal.
The saga appears to be on the verge of conclusion. Davis said she'll continue to remind herself of the journey by reading letters of support from those who prayed for her from afar.
"I needed those prayers. It had to be millions, there's no way I could have withstood the pressure and just the sheer battle in itself without them," she said.
Davis, 50, will continue to serve in her first term as clerk, which ends in 2018.
"My job continues," said Davis. "I don't have any animosity or hate. The one thing I hope people take away from this is that there is a God in heaven that loves them. That we can forgive. There is a deliverance, and there is freedom and liberty."
(606) 326-2651 |