Students at Raceland-Worthington High School spent Tuesday putting the finishing touches on care packages destined for members of the U.S. military currently serving overseas.
The students stuffed packages with items including socks, bubble gum, candy canes, and Christmas cards that were hand-made by middle school and elementary school students in the Raceland School District. The care packages are a means, the students said, of showing those serving the fondness those at home have of them, as well as expressing appreciation for the sacrifices they make.
The school groups Senior Beta Club, Junior Beta Club, Spanish Honor Society, and the Key Club all worked together to make the care package shipment happen. Shaylyn West, the Treasurer for Beta Club, Spanish Honor Society, and Key Club said there were about 200 students involved in each club, but that members of one club are often duplicated in another.
"We all felt bad that the soldiers couldn't come home for Christmas, and that's why we are doing this," West said.
"We all work together on most projects," said Sydney Ryster, president of the Beta Club, and the Vice President for both the Spanish Honor Society and Key Club. "We got the other two (middle and elementary) schools involved, and then we would pick up the cards they made to go in the packages."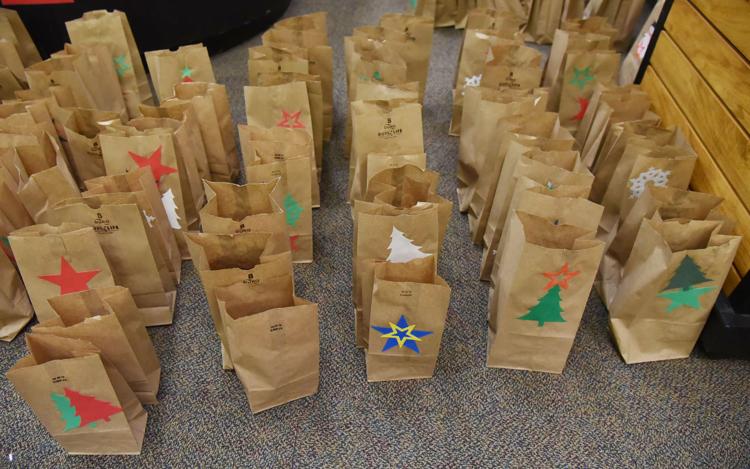 The students organized the efforts of all the schools as well as donations from individuals and businesses. The result is there will be 850 packages shipped from Raceland to spread a little of the joy from home to those who are serving away from home.
Isabella Joseph has a brother serving overseas who, including this Christmas, will have been away from home for two Christmases. Joseph's brother is inspiration in part — along with other student's family members who are currently serving — for the care packages. The number of packages, however, were inspired by an American serviceman who Club Sponsor Zenaida Smith met before she came to the United States.
Smith lived in Panama in 1989 near the United States military base, and worked on the base. It was during this time that Smith met Kevin Wilson, who at the time was the age of Smith's current students. "He was 17 when he was sent there to serve," Smith said. "And he turned 18 a week before the Liberation."
"Through my work on the military bases I met a lot of families, and made a lot of friends," Smith said.
"And this particular group was very close. Now those bases are no longer there because in 1999 when the U.S. – Panama Treaty took effect, all that reverted back to Panama," Smith said.
"Kevin had just got to Panama, and we took him into the group," Smith remembered. That group went to eat together and shared times at movie theaters, and generally enjoyed spending time together as friends will. But those were turbulent times when violence erupted.
"There was an officer killed and another officer and his wife that were beaten in downtown, and things were getting really bad," Smith said. And it was on one of those nights that Smith said the group was getting ready to go out when she received a phone call warning her to not leave, and that even returning to base would be dangerous because barricades had been set up, with checkpoints. The group was forced to take backroads to return, and managed to return safely with one catch. Smith would have to return alone to her home; but Kevin Wilson, U.S. Army 508 Airborne, was not going to let that happen.
Wilson, at great personal danger to himself, escorted Smith safely home.
"He was like a brother to me," Smith said. But a week later Operation Just Cause went into play, and the entire group became separated. Fortunately, the two friends were able to reconnect last year through Facebook. Smith was able to reacquaint herself with Wilson, now a Lt. Colonel, and meet his wife and family. When she found out that Wilson had a command in Poland, she mentioned this to her students and they decided to include his command in their care packages.
"That is why I fell in love with this country," Smith said. "The United States is the first one to respond in the world with help during national disasters and so many other ways. And encouraging Beta Club and the other Clubs to look beyond, out into the world, is my way of giving back. I feel blessed every day."