ASHLAND An Ashland teenager and local police officer's daughter was among nine in the state of Kentucky who received a prestigious scholarship from the Kentucky Association of Chiefs of Police Foundation.
Savannah Brunty, 17, went to the Ashland Police Department for what she believed was running an errand for her job. Instead, she was surprised Tuesday afternoon with an award letter for a scholarship from the Kentucky Association of Chiefs of Police Foundation.
"I still can't believe I got it," Brunty said. "I feel so honored to have it."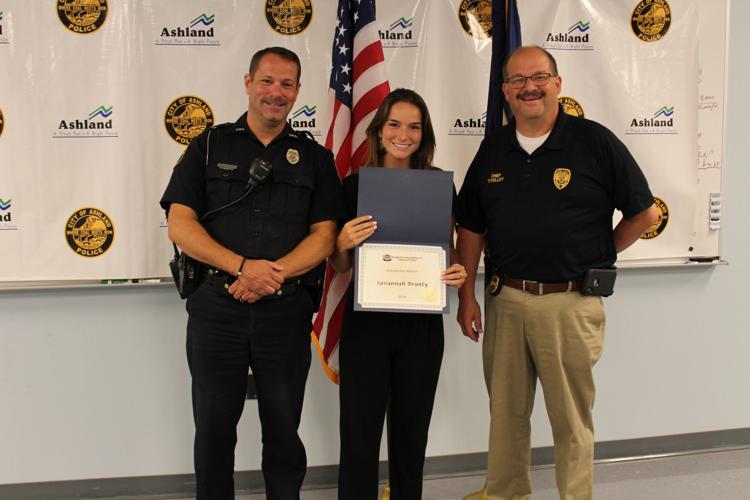 Brunty had been working as a City of Ashland intern. Lorraine Woolery, her supervisor, sent her across the street to deliver paperwork to Ashland Police Chief Todd Kelley, but she was instead met by the chief, several APD officers, her supervisor and her biggest hero — her father, APD officer Rob Brunty. Rob Brunty was awarded the Medal of Honor the Ashland Board of Commissioners and Ashland Mayor Steve Gilmore in January after he and fellow officer Chase Serrano charged into a burning building and rescued two people.
"I've grown up my whole life at the police station around everyone here," Savannah Brunty said. "I feel so close to everyone. I had been looking everywhere for FOP (Fraternal Order of Police) scholarships and when I found this one I was really hoping and praying I'd get it."
Rob Brunty had been off work but drove to the station and hid in a closet to surprise his daughter with the scholarship award.
"My dad has always liked to surprise me," Savannah Brunty said. "He's always been there for me, he's always supported me and I wouldn't be where I was without him."
"She has worked so hard on all this college stuff," Rob Brunty said. "I'm so proud of her. I'm so happy for her."
Rob Brunty said that the scholarship originally stemmed from a conversation with Kelley, who recommended that Savannah Brunty apply. When Kelley returned from a conference with the news that Savannah's application had been approved, Rob Brunty and Kelley worked with the city to ensure a successful surprise.
"It took all of us to pull this off," said Rob Brunty.
The KACP Scholarship Program requires that applicants be a resident of Kentucky, majoring in criminal justice, law enforcement or police administration, and pursuing an Associate, Bachelor's or Master's degree. Savannah Brunty is pursuing a Law and Justice Degree at Eastern Kentucky University that she hopes to put to use as a paralegal or attorney.
"Applicants must be of high moral character and must have demonstrated their academic ability," according to the KACP website.
According to her supervisors at the City of Ashland, these characteristics are very fitting to Savannah Brunty.
Woolery said that Brunty had been an excellent intern and she always went above and beyond expectations.
"She's just awesome," Woolery said.
Brunty had graduated early in December from Ashland Blazer High School and began in her internship. She said the skills she learned while working there will be important to her future success as a paralegal or lawyer.
"It was really great to work in an office and experience that," Brunty said.
"I fully support her, she's a driven young lady," Rob Brunty said. "She's got a good support system and we're all behind her."
Visit https://kypolicechiefs.org/membership/scholarship-information/ for more information on the scholarship program.