ASHLAND A frustrated father is scrambling to feed six children, a family of five traded their dream home for a camper and the parents of an 8-year-old boy living with autism fear they must uproot him.
Twelve months after AK Steel Corporation idled its blast furnace and displaced 633 workers in its Ashland plant, most of the laid-off families who remain in the area are still reeling.
They've latched onto hope they can preserve the life they've earned in the close-knit communities they call home.
They've tapped into savings accounts and rationed money. They leap toward ringing house phones with a glimmer of optimism. They wear brave faces in public, especially when accompanied by their children. They decorate their homes with blinking Christmas lights, and pray each night for a Christmas miracle. 
But for most, the well has now run dry.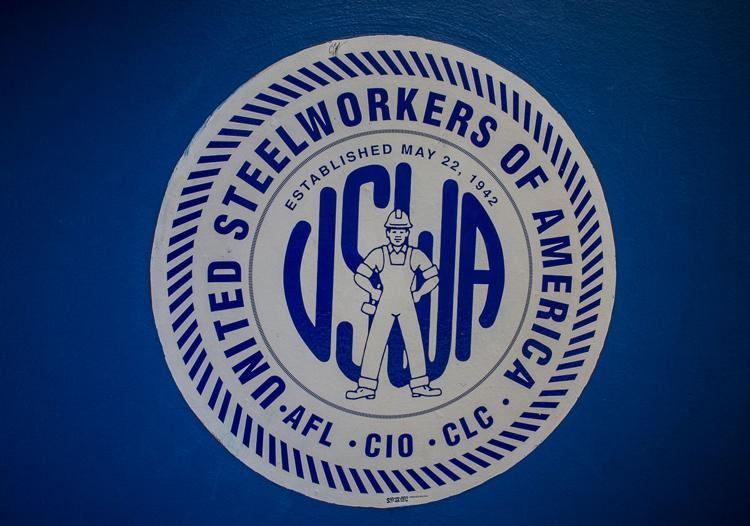 The bulk of the company's unemployment benefit packages have vanished. In the coming weeks, 104 more of the long-tenured, laid-off AK workers will lose their health care coverage, and nearly 400 will lose sub-pay.
As for locating new work in the region that provides steadier income, chances are slim. The Tri-State region is still ripe with skilled laborers but few manufacturing jobs after a gradual migration of staple companies.
Businesses are also hesitant to hire men and women whose resume states "AK Steel" at the top in fear the worker will simply return to the mill if the blast furnace is reignited.
If laid-off workers from AK Steel want to find income close to what they were accustomed to, leaving the area is their best chance.
'Relocating isn't an option'
Eight-year-old Aiden Adkins wrapped his arms around two worried parents inside a cozy Westwood living room, where stockings hung above a walled-off fireplace next to a glowing Christmas tree.
"We try to keep him sheltered from it," said his father, laid-off AK Steel worker Jeremy Adkins. "From our struggle."
Jeremy Adkins, a third-generation Ashland steelworker, said he learned during his own upbringing to refrain from divulging financial woes to his son in times of hardship.
"It's been a very hard year, especially now in the holiday season," said Jeremy's wife, Paula Adkins. "It's depressing when it's supposed to be the happy time."
Jeremy Adkins was swept away from the Ashland mill in the company's first wave of layoffs on Dec. 17, 2015. He was six months' shy of hitting the 10-year mark with the company — a milestone that would've granted him extended sub-pay and a year's worth of health insurance.
Instead, he lost his health insurance on July 1 and will lose his sub-pay this month.
"We've maxed out our credit trying to keep this life, and the house we have," said Jeremy Adkins.
The family applied for food stamps and social security benefits but were denied because the monthly compensation, including $1,000 in sub-pay, is just above the threshold, said Paula Adkins.
"I had to fight tooth and nail to get Medicaid, and we only got it because our son is disabled," said Paula.
Aiden lives with autism, ADHD, ODD, anxiety and epilepsy. The family has one, reliable car. They use it to transport Aiden to Columbus, Ohio, for visits at least once a month, often more.
Aiden, a kind, energetic child, is growing in a program that provides advanced therapy services to children living with special needs. It's called the Michelle P. Waiver, and is only available through the Kentucky Medicaid program.
For that reason, "relocating isn't an option" for the family, Paula said.
"Aiden's got challenges ahead of him," said Jeremy. "It would be hard for him to function if we had to move away."
Jeremy is one of about 200 laid-off steelworkers enrolled in college courses through the federal Trade Adjustment Assistance, or TAA, program. He's taking prerequisite courses on a path toward nursing school.
But that's his backup plan. From the moment he walked into the Ashland Works facilities, he was hooked on the gritty job.
"I was blown away by the size of everything. The fire. The cranes," he said. "It was loud and dirty. But I loved it."
"Aiden would see the stacks and say, 'My daddy's working at that one,'" said Paula.
Jeremy said "it would be nice to know" what AK Steel Corporation has in mind for the future of the mill. "In the letter we got last year, they said they'd know something in six to 12 months. We've met that mark."
"Every day I hope and pray that we'll get the call, that he'll get to go back," said Paula.
Jeremy said whether or not he returns to the Ashland mill pales in comparison to the impact it would have on the area.
"This community needs that place, and we're just one story," he said. "There are probably hundreds of families who are struggling the way we are."
'In the name of feeding our family'
Shawn Burnham cut trees down off a hillside, sliced the lumber and built a $400,000 custom log home with his wife.
He was living off the Industrial Parkway in Greenup and entering his 14th year at the Ashland mill when the company idled the blast furnace.
"After I got laid off, I had bills to pay. I have three young kids. My wife and I had to figure out what was going to work for us," said Burnham. "Obviously, unemployment and sub-pay are not enough to support a family of five, so I moved to Columbus."
Burnham worked away from his family at a company in Ohio for four months while maintaining hope the blast furnace would start back up. Seasoned veterans of the mill like Adkins and Burnham have dealt with layoffs in the past, but none this long.
Months passed and bills stacked. Burnham sought better employment in Indiana, Florida and elsewhere. "There was none to be had," he said.
Burnham and his wife were faced with a painful choice: move their children, ages 8 to 11, from a comfortable home for greener pastures or wait out a layoff with no end in sight.
"The decision to sell our dream home was extremely difficult," he said, "but in the name of feeding our family, that's what we had to do."
Burnham, his wife and kids now reside 700 miles away from the rest of their family in a camper in Sneads Ferry, North Carolina.
"It's tough, moving from a 25,000 square-foot home to a 200-square foot camper," he said. Burham, 40, is now a mechanic in North Carolina, where the "pay's not great" but the work is enjoyable. "It's still not the job I see myself at."
He's hopeful the Ashland area can recover from the mass layoff, but noted the gravity of AK Steel's decision impacts far more working class people than its own, full-time employees.
The 600 lives affected by the layoffs in the Ashland area equate to about 6,000, when factoring in contractors, other businesses and families, he said.
'They need to tell us'
"We're struggling," said Jason Keeney, of South Point, Ohio. "When you're behind on every bill you've got, it gets hard. Whether we're going back to work or not, they need to tell us something."
Keeney and his wife, Jennifer, are raising six young children. He's studying industrial maintenance in college courses through the TAA program, but that's not where he wants to be.
"I need to work," he said. "But it's next to impossible to get one of the few good jobs around here because we're all on temporary layoff status.'"
He reflected on past Christmas seasons, when his income was steady and buying presents was less burdensome; when he knew exactly where he was headed each morning.
"You're used to a way of life, then it's gone," he said. "Now, I don't have anywhere to go when I wake up in the morning."
Despite the frustration, Keeney hasn't given up hope.
"I'm probably one of the few that's still trying to hold an optimistic view on it," said Keeney.
He's hopeful President-elect Donald Trump will fulfill his promises to improve the economy, specifically when it comes to the steel industry, and pointed to the victorious U.S. tariff cases that stand to benefit American steel companies.
AK Steel said it ceased blast furnace operations in large part because of the "dramatic increase in imported carbon steel and the associated declines in AK Steel's order intake rates and selling prices."
The corporation said it suffered financially as a result of an increase in steel dumping, or oversupplying the U.S. market with cheaper steel than domestic manufacturers, by foreign countries, most notably China.
In May, the International Trade Administration, or ITA, levied anti-dumping tariffs on imports from some Asian countries, including China. The U.S. also slapped tariffs of more than 500 percent on Chinese cold-rolled steel.
AK Steel CEO Roger Newport and other executives met privately with local officials in Ashland last week, and said the blast furnace will remain idled.
Some laid-off steelworkers craving a return to the mill said they view the lack of a decision as a positive, because the corporation hasn't ruled out starting the blast furnace back up. But many want a firmer answer.
"We've been out of work for a year," said Keeney. "And we still don't know."
Kendall Kilgore, vice president of the local union, said those who want to help AK Steel workers and their family can donate coupons. The local union hall is located at 734 Carter Avenue in Ashland.
"Anything helps," he said.
(606) 326-2651 |