ASHLAND Local vape shop owners are steamed.
 The Ashland city commission agreed in principle last week to amend its anti-smoking ordinance and ban e-cigarette use inside public places. Some advocates for vaporized cigarettes believe the decision to usher "vapers" outdoors is shortsighted.
 "For the city to add this to a tobacco policy is unfair to the industry," said Chuck Riesbeck, owner of NoSmoke Vapor Shoppe. "It's vapor. It's not smoke."
 Riesbeck said he launched his downtown business to help others quit smoking after he escaped a longtime tobacco addiction by shifting to vapor. He encourages customers to practice "responsible vaping" but doesn't believe secondhand vape is harmful.
 Mayor Chuck Charles does.
 "When you've got a chemical that's used in anti-freeze, it doesn't take much to realize it's harmful," said Charles. "My concern is the health of the public."
 Whether or not exhaled puffs from e-cigarettes are harmful for others to inhale is hotly debated in the U.S. Few studies point toward secondhand vape causing damage to health. A 2014 study by the International Journal of Hygiene and Environmental Health suggested e-cigarettes emit pollutants into the air that don't escape ventilated rooms.
 But that study — like most centered on e-cigarettes — involved a small sample size and couldn't equate the dangers of smoking with vaping. After four years of research, the U.S. Food and Drug Administration (FDA) is expected to start regulating all e-cigarette sales in 2016.
 The FDA may slap the e-cig companies with million-dollar paperwork called "Pre-Market Tobacco Applications." Those regulations could prove devastating for the vaping industry, which is mostly consumer generated, according to District 4 Vapor co-owner Jerry Goodwin.
 "It's a misconception. This industry is not run by big tobacco," Goodwin said. "These products are made by USA manufacturers, mom-and-pop and small-town businesses."
 Goodwin and his wife, Melissa, own and operate District 4, a spacious shop on 29th Street that offers a sampling bar and lounging area. The Goodwins are strongly opposed to Ashland's proposed amendment to its anti-smoking ordinance.
 "People are afraid of what they don't understand," said Melissa Goodwin. "Vaping has helped me quit smoking. It's put more years on my life. [Legislation] should come down to the burden of proof, just like in court. There is no burden."
 E-cigarette samples at District 4 and NoSmoke Vapor — and most vape shops — are nicotine free and usually flavored. Riesbeck feared the addition of vaping to the city ordinance would prohibit sampling. "If I can't allow people to try this, it's going to move me out," he said.
 But vape shops would receive exemption to the proposed ban on indoor vaping, Charles said.
 Local shop owners are mainly concerned increased legislation will deter smokers from abandoning cigarettes and hurt business, although not all customers vape to kick a habit.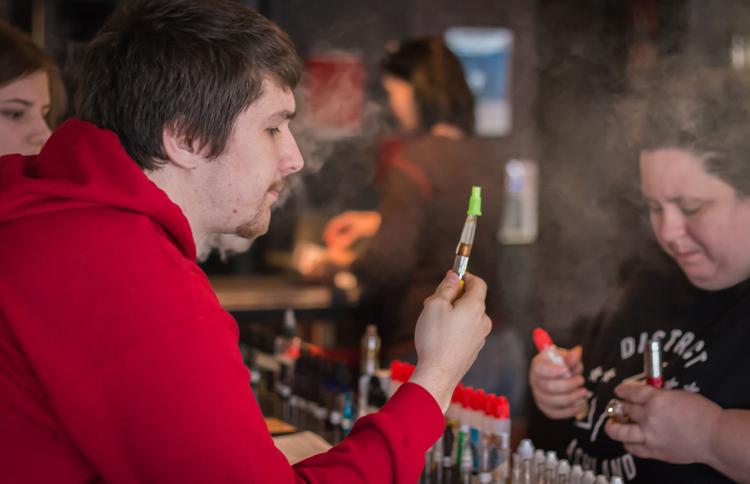 "I've never smoked. This is the only thing I've ever tried and I like it," said Chris Jaworski, 21.
 "It's healthier and a fun alternative to smoking," said Tiffany Travis, 20.
 Jaworski and Travis, both of Flatwoods, inhaled sample flavors at District 4 on Monday. The shop is one of six operating in Ashland. The Goodwins said the city can expect a unified fight against the amendment from other shop owners and e-cig users.
 "Vaping is a community," said Melissa Goodwin.
 "We're a big, tight-knit group," said Jerry Goodwin. "We're going to push. The city's going to do what they want to do, but we have several national advocacy groups that will be coming to our aid. I think the controversy's a little bit bigger than what they were expecting."
(606) 326-2651 | aadkins@dailyindependent.com