ASHLAND A group of local high school students sat down at the senior center on Wednesday to ensure that all local seniors understood how to communicate via smartphone and use current technology.
The Boyd County Branch of the Kentucky Youth Council for Volunteer Service facilitated an event at the Ashland Senior Center to assist senior citizens with understanding different technologies.
The BCBKYCVS is a group of high school students from four school districts located in Boyd County and has been active for 20 years. The council's purpose is to facilitate community service activities for Boyd County youth to develop leadership and cooperation skills.
Bill Burch, the team advisor, said that the students promote a strong foundation for the future by developing leadership that promotes the ethic of service and empowers and engages young people through service.
The function of the program at the Ashland Senior Center is to assist with breaking down communication barriers that are set up between senior citizens and the use of smartphones and modern technology.
"What seniors fail to realize is that texting has replaced letter writing and the telephone," Burch said.
The group is led by Rebekah Howard, a local high school student. Howard was one of six who attended the Ashland Senior Center to help a group of senior citizens become more tech-savvy.
"I really like to work with this group," Howard said. "It's important to help them connect with their grandchildren. I know I would want my grandma to be able to talk to me."
Howard said her favorite part of the program is the interactions with the senior citizens.
"They tell us their stories, and I just really like to talk to them," said Howard. "I've always visited centers where I used to live. This is something I'm passionate about. It's like a barrier for them and it's something we can work on."
Howard said that the most common ways the students assist is how to send a photo, saving photos, how to FaceTime and connecting to WiFi.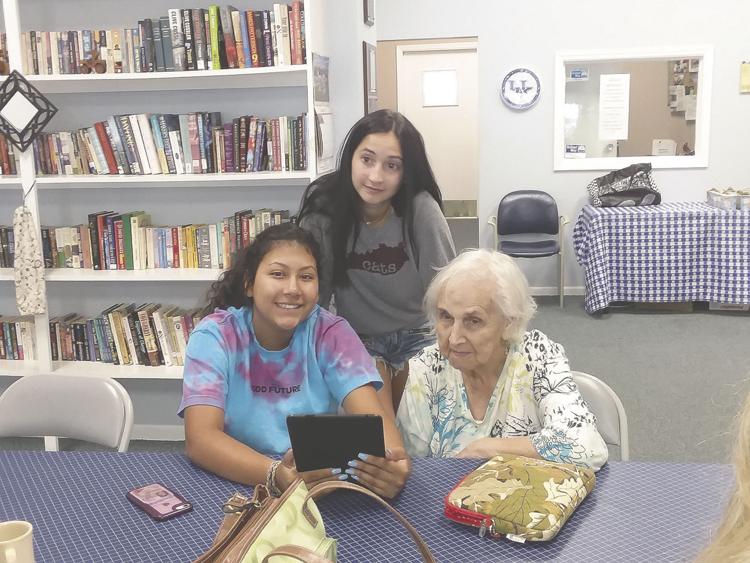 "These teens not only brought the benefits of technology to older citizens, but they build bridges between the two generations," Burch said.
Teen mentors also helped the senior citizens to learn to understand and download apps. The technology knowledge allows seniors to use smartphones, laptops and tablets to make it easier to keep in touch with children and grandchildren as well as friends and relatives.
Other projects the group has taken on include teaching underprivileged children to swim, organizing a 3K run for the United Way of Northeastern Kentucky, cleaning up Tygart Creek and organizing a track event to combat childhood obesity.
The Future Farmers of America, a school organization at Boyd County High School, was also in attendance to pass out succulents to each senior citizen in attendance.
"We're leadership based in promoting agriculture," said Karli Childers, the chapter and regional president of FFA. Childers' father is the FFA advisor. She said that he inspired her to join the group and continue to promote agriculture within the community.
Centers or students that are interested in participating in the program may contact Burch at 928-7114.