The two abandoned homes on Johnson Street in Westwood have been a neighborhood nuisance for many years.
The've sat deserted. The only people who valued the structures were the drug users who used and peddled their poison from their trash-strewn confines.
"They are beyond creepy," said Melissa Riddle, who lives down the street from the shabby, ramshackle huts. "A lot of times you see drug addicts going in and out in the middle of the night. We are glad they are going to be gone."
On Wednesday morning Boyd County Code Enforcement Officer Lisha Branham gathered with a team of Boyd County employees to begin tearing down the eyesores. They were joined by area residents and members of Westwood HELP -- a community advocacy group of citizens looking to improve Westwood.
"We are making a difference in our neighborhood," said Tammi Conley, a member of Westwood HELP.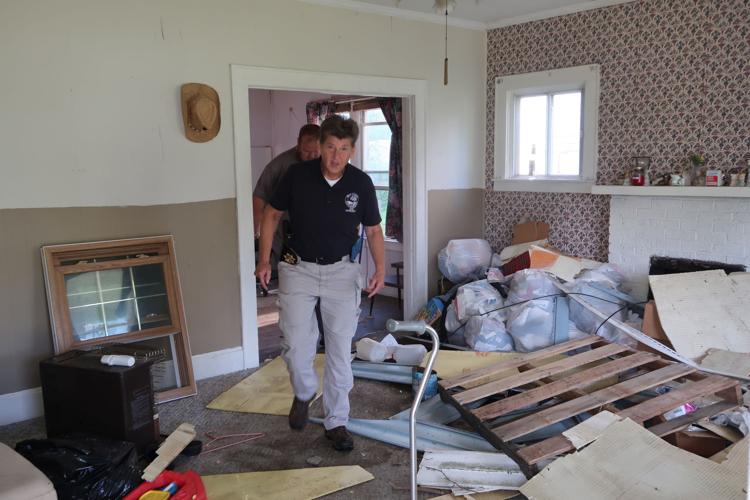 Branham said getting to the point of tearing down the homes has been a years-long journey. It started with neighbors calling about uncut grass and trash at the properties.
"We started putting them in violation, then we started maintaining the grass and putting liens on the properties," Branham said. "These two properties were owned by parents, left to children, children were scattered everywhere, and our people from the county Fiscal Court, Jason Queen being one of them, tracked down one of the kids to Morehead to get them to sign and the family got together as a whole and decided they were going to give these houses to the county."
Branham said Boyd County Fiscal Court Judge Eric Chaney said "if the houses are ours we are going to tear them down."
"We are going to get this place cleaned back up," Branham said.
The cost of inspection, removal of the homes and removal of the debris cost around $15,000 combined. The residents of Westwood said the money is well-spent.
"Hopefully a new family will find this spot attractive and build a a new house there," said Suzanne Griffith, also a member of Westwood HELP.
Neighbor Jim Bowling offered praise to the initiative and the county for tearing the properties down.
"This is a nice neighborhood. There are good people here," Bowling said.