SOUTH SHORE For Bob Bryson, there's no place quite like the one he calls home.
That place would be the baseball field on Schultz Creek.
"I'm here all the time," he said.
He's not kidding.
Bryson estimates he has played in 1,200 consecutive games on Schultz Creek Field, which celebrates a golden anniversary game on Saturday.
"Personally, the last game I missed for being sick, was '76," said the Schultz Creek "Iron Horse." "When I was coaching football I was getting close to 1,000 consecutive games. They would leave on Sunday for camp and I drove down on Monday morning so I wouldn't miss the game."
Bryson, 64, is an adult baseball marvel. He still plays games every week and still plays well.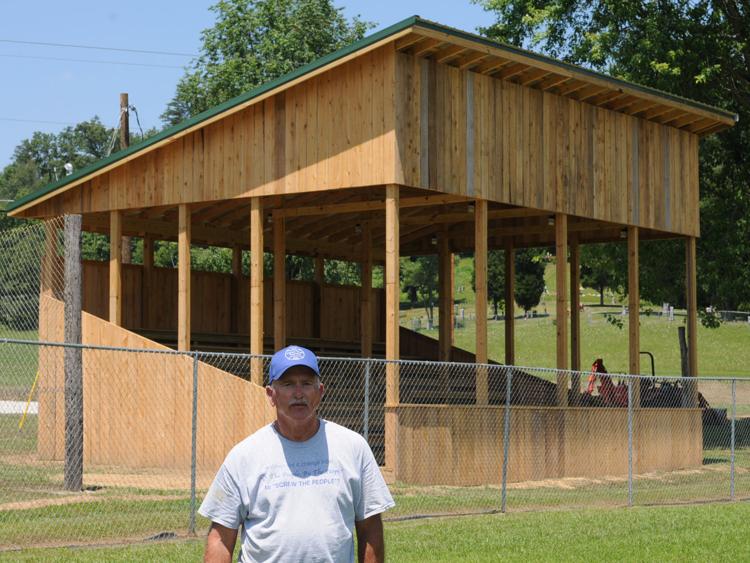 He's been building toward a crescendo this weekend and the last-minute details are starting to pressure him a little.
"It's exhausting and exhilarating at the same time," he said.
He has a new grandstand fashioned after the one at Coney Island Field in Fullerton where an amusement park once stood on the grounds.
Electricity was pumped in by Grayson RECC on Thursday because he wanted a night game to commemorate the 50th season of Schultz Creek Field.
He's setting up construction lights from Wagner Rental to bring some glow to the field.
Adult baseball
Bryson calls it a celebration of amateur baseball in the area.
"I'm throwing myself a great big party but I want to call attention to amateur baseball in this area," he said. "It has been played for 150 years. The Portsmouth paper researched it and the first recorded game was 1866."
Nearby communities would field teams and play on Sunday afternoons. Several communities had fields, some better than others.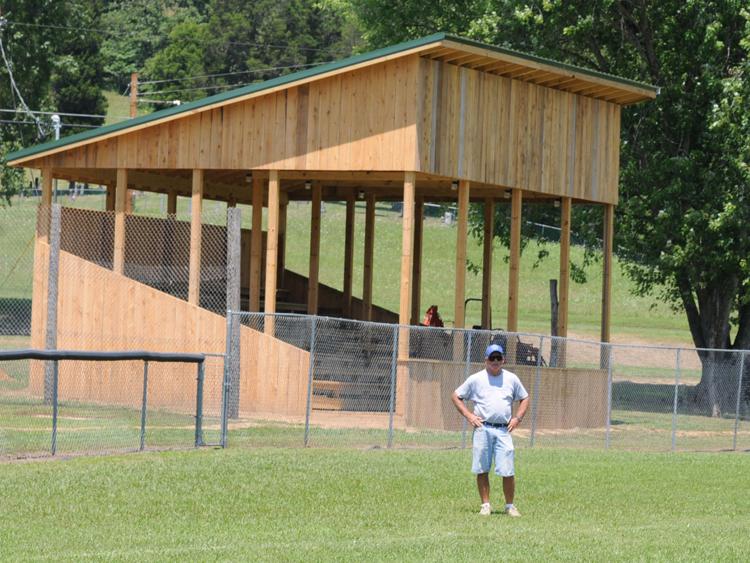 "Each community had adults that played," he said.
Few have played longer than Bryson, who can recall playing pickup games between the Bryson General Store and the branch.
"We started hitting the ball too far," he said. "Some of the balls were landing on the flat roof of the store. Dad made us move across the field."
Bryson said Virgil Winters mowed a spot for them and the field was born. Schultz Creek would host the Sunshine Boys, South Portsmouth, South Shore and others.
"The South Shore guys challenged us to a game in '66, a pickup game. The first year was actually 1967."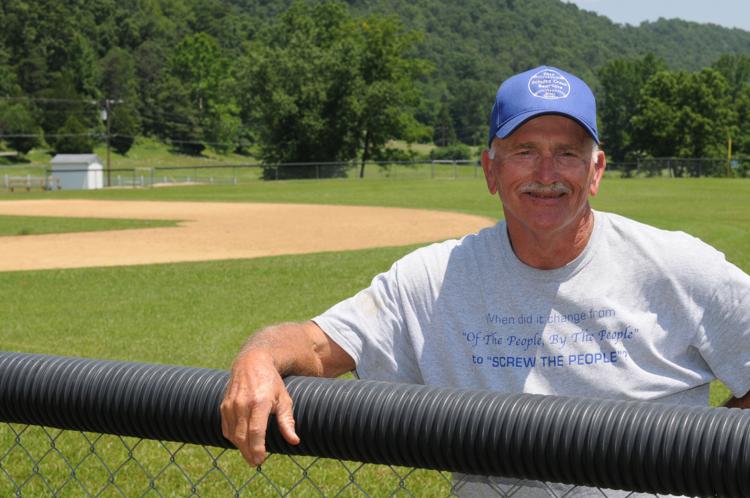 Bryson, who is a detailed statistician, said they played eight games in the first Schultz Creek Invitational. For years Bryson hosted three tournaments on the field — the Schultz Creek Invitational, the Bryson Invitational and the Bearcat Classic.
The Bearcat name came from Bill Cropper who was Bryson's homeroom teacher his senior year. Bryson would announce to the students what was happening and include the Schultz Creek schedule.
"Who are the Schultz Creek Bearcats playing this week?" he jokingly asked one day.
"The name stuck. Sunshine, after the tornado in '68, changed their name to the Tornado. The guys at Sand Hill I hung the name the Fighting Sand Crabs on them."
Bryson said the anniversary game has drawn a lot of attention on social media.
"I've heard from people I haven't heard from in a long time who are coming back," he said. "There will be hundreds here."
Legends Game
There will be a Legends Game at 4:30 p.m. for anybody who ever played against the Schultz Creek Bearcats are welcome to participate.
The commemorative game will be between Schultz Creek and a team from Morehead around 8 p.m.
Special ceremonies begin at 7:30 he said, including a dedication of a bench for Bryson's late mother, Gladys Hannah Bryson, who watched hundreds of games there under a shade tree.
Former major leaguer Don Gullett will be throwing out the first pitcher and former MLB umpire Terry Craft is putting on the gear again behind the plate.
Tom Clay has agreed to do the PA for the Legends Game.
"He's got plenty of stories on every one of those guys," Bryson said.
$40K in upgrades
Bryson estimates a total of around $40,000 worth of improvements to the grounds by the time everything is complete.
In addition to the new grandstand and press box, there is also a new scoreboard just beyond the right field fence.
Bryson will be on the mound for Schultz Creek and Kevin Martin for Morehead.
"If we're hitting our spots, it could be a quick game," Bryson said.
There is no admission. The field is located across from Bryson General Store, located off Ky. 784 in South Shore.
Concessions will be available during the event, as the Greenup County Baseball Boosters and the McKell Class of 1966 will be on hand to sell concessions.
Greenup County High School's baseball team is the honorary grounds crew who will work on the field between games.
Firebrick collector John Carpenter's memorabilia will also be on display and Gene Bennett has a table to sell his recent book about his life in baseball.
(606) 326-2648 | mmaynard@dailyindependent.com