AppHarvest founder Jonathan Webb looks out across the rural Rowan County landscape and sees the potential for a revolution.
It is —within his view — an agricultural revolution on the horizon. A stunning, massive, 60-plus acre greenhouse rising from the brown dirt, used to grow produce that can be shipped across the eastern seaboard and the nation from right here in Eastern Kentucky.
"AppHarvest is building large scale indoor growth facilities with Morehead being one of the largest facilities in the U.S.," Webb said in a recent interview with The Daily Independent. "We are working to bring regional production home. We've seen produce imports nearly triple south of our border. Four billion pounds of tomatoes were imported from Mexico last year. We want to see that production come home and become regional."
Webb said Eastern Kentucky is the perfect place for the greenhouse, which is planned near I-64, right off KY 801 North, in the Sharkey area. The project is expected to bring 280 full-time jobs to the area.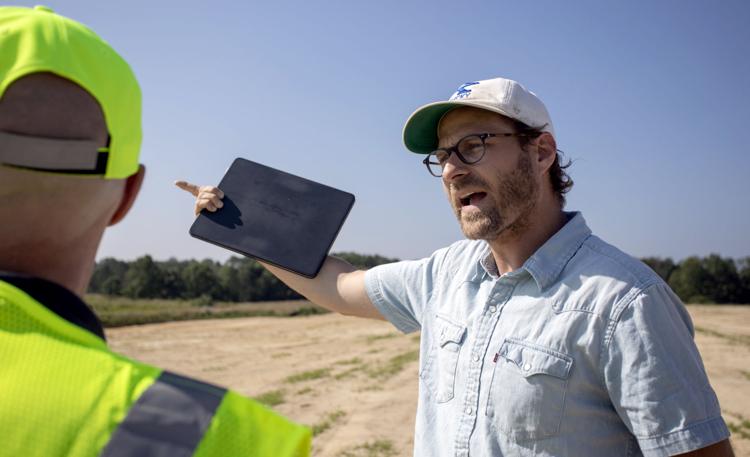 "We've had a record amount of rainfall here...and we can get to 70 percent of the U.S. population in a day drive," Webb said. "(It is a) perfect place to build a large scale indoor production hub and bring produce that's being shipped five days on an 18 wheeler from California or Mexico, bring it to the eastern part of our state, get it down to a day drive."
The group elected to use the greenhouse instead of a warehouse because they are able to capture the sun and operate completely on recycled rainwater. The sensors and software inside the greenhouse work together for what is called "controlled environment agriculture" aimed at creating an optimal, consistent environment for the fruits and vegetables to be grown. Initially they are targeting tomatoes but they are are also looking at cucumbers and other fruits and vegetables. The organization is committed to sustainability, Webb said.
"Run on a hydroponic system and control the climate to best grow the fruits and vegetables," Webb said. "We will use 90 percent less water than open field agriculture. We will not use harsh chemical pesticides....non GMO. Since we are controlling the environment indoors we don't need to have a GMO seed for outdoor conditions. (It is) much more environmentally friendly and a much higher yield per acre."
Webb notes there are analogies between wind and solar's recent prowess for job creation and controlled environment agriculture.
"Build at home, grow at home and from a security standpoint the fact that our fruits and vegetables are shipped 1,500 to 2,000 miles, it is not good for anybody," Webb said. "It's not good for the environment so how do we bring it home? We do it through controlled environments and building facilities like this."
AppHarvest will be connected to municipal water but the plan is not to use city water for the grow operation. East Kentucky Power has been an incredible partner, Webb said.
"From an agricultural standpoint rainwater has no sodium," Webb said. "Anything from the ground, well water, city treated water, collects sodium. When you run sodium through a hydroponic system the sodium builds up and you have to flush water in, you have agricultural run off and you put water into the wastewater system....with rainwater we can have a closed loop system...a sustainable, resilient way to build ag projects moving forward."
An early investor in AppHarvest is Revolution's Rise of the Rest Seed Fund The fund is managed by AOL Co-Founder Steve Case and best-selling author J.D. Vance and is backed by more than 30 iconic business leaders, including Amazon Founder Jeff Bezos and former Google Chair Eric Schmidt. Equilibrium Capital has made an all cash investment. The project was originally projected at 82 million. It is north of that now and is expected to come in under 100 million.
"We've got great investors who are with us for the long-term," Webb said. "We are in it for the decades to come."
A $1.9 million new road is making the project possible. The state is helping with the road and Webb said assistance from Rowan County and the city of Morehead as well as several other local partners have been profoundly helpful. He said Eastern Kentucky is known for its skilled workforce.
"This facility will take over 280 people to run and operate," Webb said. "We see the growth opportunity of this industry and a lot of other spin-offs."
There will be about 100 temporary construction jobs with 280 full time jobs eventually realized.
"Thirty to 40 percent of the facility will have top-end management salaries," Webb said, adding "we are looking at the UPS model in Louisville where you've got $13 an hour or north with full health benefits...and the critical piece to us is to offer classes on nights and weekends so the employees can upskill and get a degree while they are working with us."
(606)326-2648|