The event was held at Boyd County Library. Several family members and friends along with Kentucky Wing staff members, cadets and their commanders from Lexington and Danville squadrons, were present to celebrate the memories of this great man of aviation. Kentucky Wing Commander, Col Darrel Williamson, presented the medal to Major Gartrell's daughter, Carol Gartrell Kasuhuba.
The Congressional Gold Medal is an award honoring Civil Air Patrol WWII volunteers for their unusual combat and humanitarian service at a critical time of need for the nation.
Col Williamson said, "Having the opportunity to present the Congressional Gold Medal to the family of Maj Gartrell is a great honor for our wing. Maj Gartrell was the aviation pioneer in the Commonwealth, and we are fortunate to be able to benefit from his efforts today throughout the state. Serving as one of our war time commanders, Maj Gartrell helped shepherd our wing and helped lay a foundation for what we enjoy today in Civil Air Patrol."
Charles was enamored by flight early in his life when a plane landed in Ashland when he was 5 years old. Bill Martin, who was also in attendance, wrote about this historic landing in his book, Ashland Airport, Eastern Kentucky's Forgotten Field. Charles learned to fly when he 17 years old and dedicated his entire life to bring aviation to Kentucky. He would patrol the coastline during WWII with the Civil Air Patrol as a pilot at Bader Field in Atlantic City, New Jersey at Patrol Base No. 1 of the Antisubmarine Command. He joined Army-Air Force Auxilary and then the Navy Reserve where he would become a test pilot.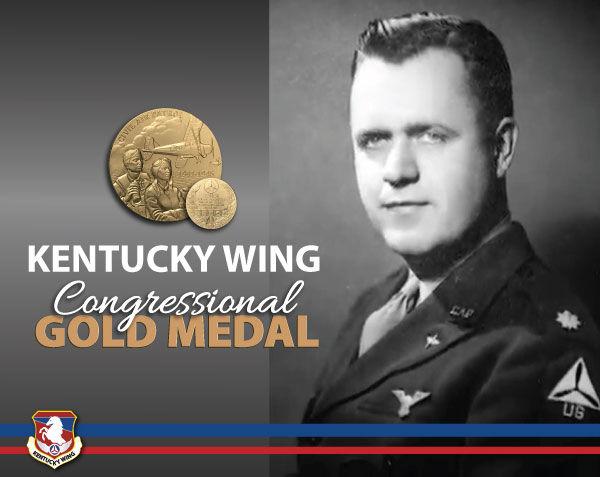 Carol Gartrell Kasuhuba talked about how her father loved aviation and recounted stories about of his dedication to flying throughout he childhood and during his career. She spoke about when she was a little girl and he took her above the clouds as the sun was setting. She said that everything was golden. She thought it was heaven and wanted to see an angel.
After the war, he was dedicated to building aviation in the Commonwealth. In 1941, Gartrell was named the first chairman of the Kentucky Aeronautics Commission and the first commissioner of the Kentucky Department of Aeronautics from 1948 to 1956. He began the Division for Aeronautical Safety and the Division of Airport Development. When he began, Kentucky only had 18 airports. During his life, he built or expanded 35 airports including Capital City Airport.
Charles Gartrell was inducted into the Kentucky Aviation Hall of Fame in 2011. This great man had a great impact on Kentucky aviation.
Civil Air Patrol, the longtime all-volunteer U.S. Air Force auxiliary, is the newest member of the Air Force's Total Force. In this role, CAP operates a fleet of 560 aircraft, performs about 90 percent of continental U.S. inland search and rescue missions as tasked by the Air Force Rescue Coordination Center and is credited by the AFRCC with saving an average of 80 lives annually. CAP's 61,000 members also perform homeland security, disaster relief and drug interdiction missions at the request of federal, state and local agencies. In addition, CAP plays a leading role in aerospace/STEM education, and its members serve as mentors to over 26,000 young people participating in CAP's Cadet Programs. Visit www.GoCivilAirPatrol.com or www.CAP.news for more information.
.