Authorities continued to search for a missing boy swept away by floodwaters in Rowan County Sunday.
The Morehead News reported the child was swept away in flood waters of West Morehead. A local company has joined the search by donating the use of drones along the creek banks of where the boy was swept away Sunday.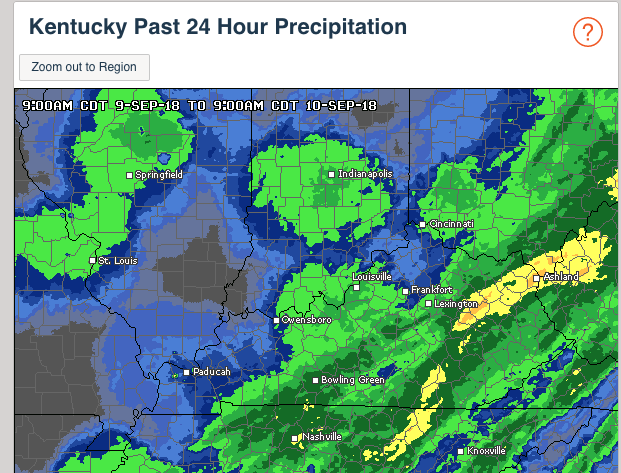 Morehead Mayor Jim Tom Trent tweeted Sunday "We need your thoughts and prayers. A young boy has been swept into a culvert in town -- first responders are working hard to locate him. Please avoid the US 60 West area near the post office. Please keep your children away from culverts and streams in heavy rain."
Boyd County Emergency Management Director Tim England said Monday morning authorities in Frankfort have asked for assistance in the search.
"They are requesting our canines...they requested another dog from Elliott County as they wanted scent dogs on both sides (of the creek,)" England said.
Further details have not been released. Rowan County remained under a flood warning this morning.
In the areas of Greenup, Boyd and Carter counties, authorities were assessing the fallout from a prolific rainfall event that dropped anywhere from 2 to 6 inches of rain on eastern Kentucky. Accuweather posted a summary of rainfall in Eastern Kentucky showing that spots in and around Ashland received up to 5 inches of rain in the past 24 hours. Thiw was also true in the Morehead area.
"It just continued to dump water down," said Allen Blair, information officer for the Kentucky Transportation Cabinet District 9.
This morning there were several reports of flooded roadways. They included:
Bath County:
- KY 36 at Menifee County line (MP 23.8-23.9)
- KY 211 at Salt Lick, between KY 3290 and a half mile off US 60 (MP 5.4-6.4)
Carter County
- KY 986 (Bens Run), along Tygarts Creek near Olive Hill (MP 0-1)
- KY 1910 at Grayson from Midland Trail to I-64 underpass (MP 0-1)
- KY 207 south about halfway between US 60 and Norton Branch (MP 1), tree down
Greenup County:
- KY 784 at Kehoe along Tygarts Creek (MP 9-10)
- KY 1 near KY 784-Lost Creek (MP 1-2)
- KY 2 at KY 7 near Tygarts Creek (MP 6-7)
Mason County:
- KY 596 at the North Fork of the Licking River bridge (MP 5)
Nicholas County:
- KY 13 at Hinkston Creek near Jackstown (MP 0-1)
Rowan County:
- KY 1722 between KY 801 and US 60 (0-0.8) at Bluestone
England said in assessing the fallout in Boyd County "right now we are in pretty good shape....most of our water has emptied out. The bottoms of the creeks (in Boyd County) are starting to get back in their banks."
England said in Boyd County one rain measurement indicated 3.28 inches in 24 hours. IN Ashland the measurement was 2.68 inches. The Accuweather data indicated those numbers may have doubled depending on location.